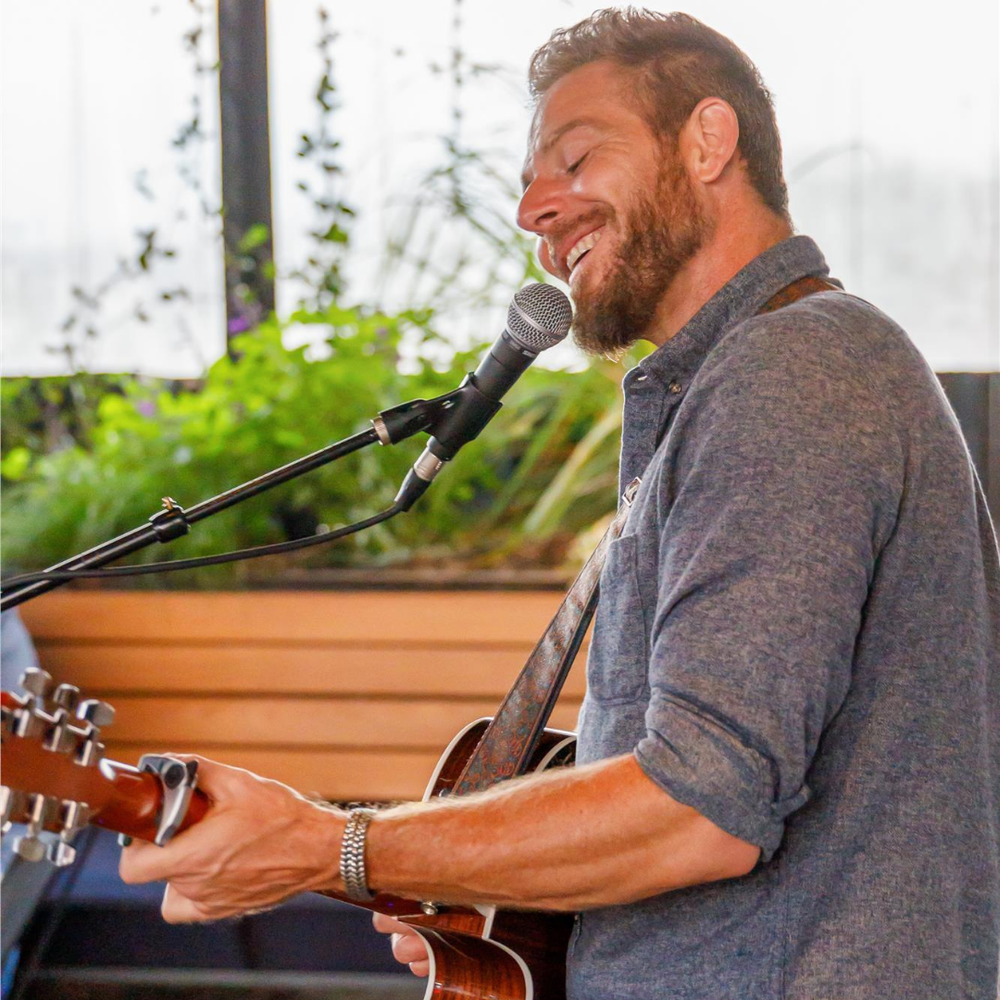 About
Ryan DeSiato is an artist that has experienced many stages of metamorphosis over the years. In line with this journey, his current soulful acoustic blues sound has taken many stylistic twists and turns on the road to its current expression.
He began creating music and learning guitar at 15 by playing along to Nirvana's Unplugged record. In Ryan's words: 
"I played acoustic guitar along with the record in my mom's garage after my parents divorce like I was a member of the band. Music took my mind off of the emotional pain I was in and started to build the fundamental guitar skills that I use today."
 "I would set up my boom box in front of me in the center of my mom's garage and get lost in the flow of the live performance. The reverberations of the music bouncing off the concrete walls and the sound of my guitar blending in with the band was such a joy to me."
In highschool his ability to play guitar and sing connected him with other musicians and he started an alternative rock band. 
"We had fun mostly, but we opened for a few large acts, Big Wreck, Creed and David Garza. The experience was wonderful and I learned a lot about live music performance during this time. After my first band experience I launched into my twenties and started to pursue a more acoustic, solo based sound. Something about the acoustic guitar always called to me."
When Ryan was 19 he wrote and recorded his first acoustic album called "I AM" in San Antonio TX. He recorded the full 12 songs in one take as a live performance. 
"I knew very little about studio recording then. The process of throwing myself blindly at a challenge was indicative of how, for better or worse, I've learned most about the music industry."
Continuing on through his 20s and 30s ryan recounts:
 "I was quite prolific during this time. I amassed a catalog of 200 plus songs. Many of which I have yet to record and look forward to recording when I feel called back to revisit them."
During this time of high output in 2004 he branched back into the alternative rock genre and recorded his first solo record: "EP 2004". Along with the recording, he produced a music video for the single 'Make Believe' which won Best Video at the 2004 Austin Music Network awards.
In 2005 Ryan recorded the follow-up to "EP 2004" titled "Double Edged". "This record represented a return to a fusion of music styles mixing rock and my acoustic aesthetics." 
Ryan recounts:
"I was being called back to my roots."
Digging back into his roots, experiencing notable creative output and beginning to receive broader attention, including label interest, Ryan was reveling in his work and felt empowered.
With all of this momentum and excitement in 2005, Ryan, unfortunately, had to put his music career on hold following a traumatic surgical operation that went terribly wrong. 
Soberly recalling the season, Ryan explains:
"This was the beginning of a long period of depression and substance abuse that presented me with an opportunity to face it and grow, or to allow it to distract me from my purpose. At that time I chose to run from my pain and past traumas and gave in to a victim mentality. I fell into the darkness of depression and addiction. I still played various gigs, but not with the same spirit that was born into me when I began my music career. I allowed myself to become a victim of the circumstances & my refusal to take responsibility for what I could change kept me from growing, personally and artistically.
The effects of this experience began to change how Ryan was perceiving his work and further how he was navigating life choices. Thankfully the story continued beyond this dark season. He noted:
 Years of playing music in this attitude slowly distanced me from my love and passion for it, at times I felt like giving up music completely… Something in me drove me on, and after a long run of poor choices and even a brief land in jail, I started the climb up out of the hole I had dug for myself… With the guidance of some great teachers and the grace of God, I began the work that needed to be done in order to recover physically, spiritually and emotionally from my old victim narrative." 
 Ryan began to recover the previous passion for music and through personal discipline and incremental growth began to embark on this rebirthed, current chapter of his musical journey. He is pressing forward with new expressions and forms alongside his well worn familiar contexts.
Along with his dream of creating music for film being fulfilled through a 2020 commission of a theme song for a short film entitled "Perdition", Ryan wrote and recorded a theme for the "Luminations" art exhibition at the Lady Bird Johnson Wildflower Center in Austin, Texas.
The theme was then released later in 2020 as the instrumental single "LUMINATIONS".
The next year what was a dream fulfilled expanded even more as his original song for 'Perdition' - "DOWN TO THE RIVER" won Best Score at the Wild Bunch Film Festival. 
Continuing on with his revitalized work, in 2021 he recorded and released his original version of the classic spiritual "AIN'T NO GRAVE". In addition to this release Ryan was, once again, asked to record an original song for an exhibition at the LBJ Wildflower Center, titled "Silvana" he, in turn, released this new single called: "SKIPPING ON THE PLAYGROUND" in Feb 2022.
Most recently Ryan was excited to complete the single "PICK YOUR HEAD UP". In part this single was a response to the difficulties of the covid pandemic and yet it contains a hopefulness that has been a marker of Ryan's new season of life and work. Ryan expresses his thought on the project in the following way:
"PICK YOUR HEAD UP" is especially dear to me because it's an embodiment of the encouragement that I've felt from God and my teachers over the past few years. It's a message of hope, compassion and strength that  brings me a great deal of joy. I look forward to sharing more of my journey of growth as it unfolds!"
With Ryan looking forward to what is ahead the journey will surely continue to be filled with richness, good work, and good stories. No matter the roads ahead, it should be a great ride.
press
"

His poignant lyrics and eclectic rhythms are beautifully orchestrated, making his music both original and incredibly captivating. Up close Ryan is an enigmatic artist whose passion for music infects anyone within a few feet of him." - Mary Robinson, SWAG Magazine
"

He writes, sings and performs from a place of rich emotional content. " - Missy Wolf, Center Stage Magazine
"

(About Ryan) Musicians that perform what they feel are easy to come by, musicians that write meaningful lyrics and captivating hooks are rare. " - Doyle Osburn, DJ- KLBJ Austin, Texas